Metra Electronics® Ships New Dash Kit Designed to Fit 2021 Ford E-Series
Aug 24, 2021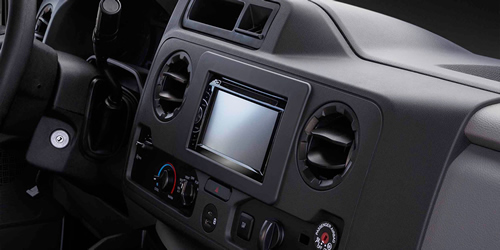 Holly Hill, Fla. – Metra Electronics® is now shipping a new dash kit designed to upgrade 2021-up* Ford E-Series Cutaway models to fit a larger Double-DIN aftermarket radio. The 95-5860G dash kit uses a trim panel to cover the minor cutting modifications required to fit the larger radio into the factory dash panel. The trim panel is textured, painted gray, and made from the highest quality ABS plastic to match the original factory appearance. An installation video is available from Metra's YouTube channel at https://youtu.be/5ELMSTBBeIs and additional installation accessories can be seen at MetraOnline.com.

95-5860G Product Specifications
● Fits 2021-up* Ford E-Series Cutaway
● Designed for a Double-DIN radio
● Requires cutting for minor dashboard modifications
● The included trim panel covers the modifications to the factory dash panel
● Textured and painted gray to match the factory appearance
*Visit MetraOnline.com for up-to-date vehicle specific information.
About Metra Electronics®
At Metra, 12volt installation and integration is our passion. We strive to continuously offer the highest quality products to meet the fluctuating technological challenges of the automotive world. We actively listen to our customers' requests and invest resources in developing the highest quality dash kit and harness solutions. We make dash kits for more vehicle applications than anyone else in the world. That's why we've been known as "The Installer's Choice" ® for more than 75 years. Our other brands include: Axxess®, T-SPEC®, The Install Bay®, Heise LED Lighting Systems®, iBEAM Vehicle Safety Systems®, Shuriken High Performance Batteries®, Raptor®, Ballistic®, AmmoTenna®, Metra PowerSports®, Saddle Tramp®, Metra Marine® and Daytona Lights®. Metra's expertise in connectivity solutions is also applied to its division of premium AV and surveillance products from MetraAV™. For ordering information and pricing, visit Metra Electronics online at MetraOnline.com or call 386-257-2956.
< Back to all news